This topic correspond to the post that can be found at http://www.streetgangs.com/features/041310_kab:
Streetgangs.com
April 13, 2010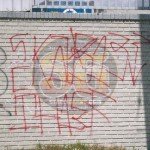 South LA, Calif - While on a street gang expedition in South Los Angeles, we came across what appeared to be gang graffiti of a neighborhood that we never heard of. We are not talking about taggers or crews which are scattered all over Los Angeles perhaps at the rate of 10 times more, but we saw what appeared to be a real gang.
We found the graffiti of "KAB 13" on Stafford Street & 31st Street on the eastside of South Los Angeles in Varrio 29th Street neighborhood. We noticed that they crossed out the "B" for Bloods, a reference to the 30s Piru Bloods in that area and a rivalry that already exists between the Pirus and the Eastside Trece. The KAB is probably aligned with Eastside Trece, but we have not been able to identify what KAB signifies.