Ivo Karamanski Alexandrov was born on November 29, 1959 in Sofia. Remains a semi-orphan five years when in 1964 he died in a car accident his mother.
He finished high school sports "Chavdar" - Sofia, then his military service in the sports school of "Levski-Spartak" by competitor canoeing. In 1981 he won the state championship later became champion of the Balkans. In 1984 he was expelled from the national team due to poor discipline.
On 13 December 1980 he was sentenced by a military court Sliven 10 months imprisonment. Serving of the sentence was suspended for a probationary period of three years. His next sentence for receiving stolen goods and was ordered by the District Court "Vasil Levski" Sofia on November 16, 1987 After the intervention of the Sofia City Court of 6 April 1988 sentence amounts to 10 months corrective labor at 20 percent deduction from salary. During the second trial Karamanski is on trial in 9126 case № 1985 of the Sofia City Court. Prosecution for fraud in the field of personal property carried out by two or more persons.
In 1986 against him prosecuted for counterfeiting. Godfather is accused in the so-called "Czech case." Ties with mafia zavrazva in his so-called "Columbian period."
In 1990 Prague was conducted a special raid in which they captured 22 Bulgarians participated in organized trafficking of stolen cars. Their leader Ivo Karamanski.
In 1992 Karamanski returned to Bulgaria with another 22 people for stealing cars in Czechoslovakia. He was extradited along with seven volumes of case materials. Bulgarian court found, however, that there is no danger of his absconding or re-offending and released him with a measure of bail - 2,000 Levs. In that case never reached a verdict.
On 7 February 1994 Dimitar Ludzhev told media that davlenie on "Karamanski case" had then Minister Yordan Sokolov. Malena Filipova prosecutor does not bring an indictment. In August 1994 Karamanski speaks from prison. In an interview with Capital Gazette accused the government of Luben Berov in oil dealings. Meanwhile, decided to run for parliament elections to the 37th National Assembly. Its registration was canceled because of the irregularity of the UCC th subscribe to his support.
He left prison on May 17, 1995, was paid 850 thousand Levs guarantees after lying more than a year in jail on charges of robbery in casino Vasil Urumov-Chico "rich and poor".
On 22 September 1995 entered into custody on charges of extortion. Released against 100 thousand Levs
In 1996, registered trade union "Justice". With it, he advocates for the unemployed, tobacco, fish farmers and private carriers. He had ambitions to take on lease the capital Sofia and dump circus.
On 10 May 1996 his company "BULFOTO-96" contract with "Dams and Cascades' use of the waters of the lake" Kardjali "breeding and fishing. 60% of the water area of ​​the lake is owned by Karamanski. It is claimed that this happened under pressure from Deputy Prime Minister and Minister of Agriculture in the team Zhan Videnov - Svetoslav Shivarov.
On December 20, 1998 33-year-old Stephen Kirilov Karamanski cords shot during the blowout in a villa in Sofia Boyana. Godfather died on the spot and cords was sentenced to life in prison.
According to the book "The Richest Bulgarians" Ivo Karamanski leaves a legacy of at least 30 million dollars. Lifetime has over 20 companies grouped fundamental than it "Corona" - "Crown Insurance" JSC, "Corona-art", "Corona-business", "Thrace fruts" Ltd. "K.A.F." Ltd. "BULFOTO" Ltd. , "Sava Consulting" Ltd., "Sava International" Ltd, "Transfiguration" Ltd., "Themis 98" LTD "Drive" Ltd. "Multifarma" Ltd and others.
His insurance company remains without a license, among konkuretite VIS and SIC at the time of the Interior Minister Bogomil Bonev. But it takes place in many other areas - production of ketchup, beluga breeding, production of watermelons, FX.
Ivo Karamanski has four children - three daughters from his first marriage to Lukanovski Galia (born 1985, 1988, 1989) and son - Ivo (1997) from her relationship with former gymnast and TV presenter Neli Atanasova.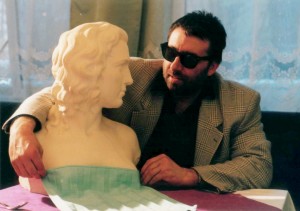 http://personi.dir.bg/person.php?id=177&view=bio